Buying a motorcycle is very different than buying a car. You may have dreams of two-wheeling cross-country, but there are unique factors you should think over before making a purchase. Especially if this is your first time shopping for a motorcycle, you may be unaware of what you should consider, but with our tips for buying a motorcycle, you'll be ready to hit the open road with confidence.
Tips for Buying a Motorcycle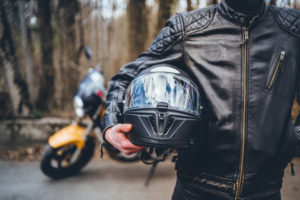 Before you go out and purchase your new ride, we advise that you prepare first. In this article, we have included tips for buying a motorcycle and additional costs to expect. Following these steps will help you be well-prepared before you venture out!
Tip #1: Safety is Number One
Before you rev your new engine, you should complete a Motorcycle Safety Foundation (MSF) course. At https://www.msf-usa.org, you can find an available course in your area.
Tip #2: Research and Compare Your Motorcycle Options
You should learn everything you can about the brand and model you're considering, including where you can service it and buy parts. There are many types of two-wheelers out there, and you should study your options before diving headfirst into a purchase:
Cruiser Bikes:

These bikes are popular with beginners and experienced riders. They offer a relaxed ride, are easily customizable, and have a distinct exhaust sound.

Sport Bikes:

These motorcycles are great if you feel the need for speed or are considering track racing. Beginning riders, however, are advised to be cautious about their power since sports bikes require good skill and experience for safe riding.

Naked Bikes:

These bikes are very popular among first-time owners. They offer an upright riding style that's great for beginners while still making good on the thrill that most are looking for.

Touring Bikes:

These bikes are designed for longer road trips. If that's your plan, you should definitely consider this option. They are, however, one of the heavier and bigger types out there. This isn't always ideal for beginning riders.

Adventures Bikes:

These motorcycles are built for

on and off-roading

. They have powerful engines and offer rugged, tough features. If you're planning mountain road trips or an outdoor vacation, this might be the right choice for you.

Cafe Racers:

If you want something lightweight, fast, and highly-customizable, these bikes might work well for you. They are great for beginners and commuting within city limits, but they are not as comfortable as other styles.

Dirt/Off-Road Bikes:

These motorcycles are built with tall suspensions and knobby tread patterns so they can perform well on dirt, mud, and gravel. If you want a bike for highways and byways, you'll need to look elsewhere.
Tip #3: Evaluate the Seat Height and Weight of the Motorcycle
A typical beginner's mistake is failing to see if their bike is the right fit for them. Checking the seat height and weight of your motorcycle is vital for making sure you have a comfortable, safe ride as well as confident, optimal handling.
Tip #4: Budget Wisely for Buying a Motorcycle
Make sure you've thought of everything! When purchasing a motorcycle, you should consider these factors and additional costs:
Used vs. New

– Depending on your needs and budget, a used motorcycle can be a great option. A

motorcycle's value decreases

by 5% immediately after leaving the lot, and additionally up to 27% by the end of the second year. 

Financing

– Check with your financial institution about payment options. Police FCU offers

motorcycle financing

for both new and used bikes.

Insurance

– The cost of insurance depends on many factors, including year, make, and model; the age of the driver; state where purchasing the insurance; and driver's credit. You can call your agent to request estimates on models you are considering, or even shop with other companies for the best rates.

Gear

– Consider the cost of gear you will need. Wearing a proper helmet, gloves, boots, jacket, and pants will help you stay safe from accidents, dirt, debris, and weather.

Customizations

– You should also think about the customizations you might want or need. Typical add-on options include saddles bags or racks, an ABS system, a windscreen, or 
Motorcycle Financing Available Through Police FCU
Whether you want to explore the country or just enjoy the ride close to home, Police FCU offers special motorcycle loans at great rates. In addition, we also offer GAP insurance at a lower cost than most dealers. 
Our loan application is fast and easy! Check out all the details today – and enjoy your new adventures!