Is Debt Consolidation a Good Idea?
Debt consolidation loans have gotten a bit of bad rap from unethical companies that make big promises with very few promises kept. This is because many turn out to be scams or end up charging a higher interest rate to the borrower. Some lenders may also charge an origination fee – a percentage of the loan amount. Plus, if it's a secure loan, and the borrower ends up falling short on payments, they can lose their collateral.
Some warnings signs that a debt consolidation company may not be on the up and up include:
If they ask you to make a payment when nothing has been done yet

If the company is pressuring you to sign on the dotted line

If the company tells you to stop speaking with your creditors

If you're told to stop paying bills

If the company doesn't seem transparent and doesn't want to share information with you
The good news is that there are ethical lenders out there – like Police FCU – and that with the right financial partner, debt consolidation loans can reduce payments and, in the long run, actually help your credit score.
The Problem With Inflation
We thought inflation was ancient history. Unfortunately, now it's a term that everyone is uncomfortably familiar with again. 
The Great Inflation of 1965-1982 was the result of bad fiscal policies and energy crises. Similar factors are causing today's inflation. Poor monetary and fiscal policies plus conflicts with supply and demand have caused negative impacts that we feel right where it counts – our bank accounts.
Most Americans recognize the effects of inflation in the rising cost of goods and services. We talk about how much it costs to fill up our cars or how our grocery bills have doubled. Incomes, of course, rarely change to match inflation, so you start evaluating where you can cut corners.  
You start clipping coupons (not necessarily a bad thing), or you start shopping at discounted retailers so you can manage your monthly budget better. You eliminate extra expenses like coffee-to-go or entertainment subscriptions or nights out on the town. Maybe you planned a summer vacation in Hawaii, but now you're looking at staycation options.
However you adjust your standard of living, sometimes it's not enough. That's when you need to consider other alternative ways of saving money.
Fighting Inflation With Debt Consolidation Loans
Debt consolidation loans – with the right financial institution – are one way to fight back against inflation. Even when inflation is not a factor, they can still help reduce interest payments and pay off loans faster – helping your budget and even your credit score in the process.
When your budget gets tight, your bills are piling up, and your stress level is rising, your first reaction may be to trim unnecessary expenses and reduce everyday costs any way you can. This is a good strategy, but it can't be the only one – not for full, long-term impact. You have to reduce your burden of debt. That's when debt consolidation loans can bring much-needed relief.
Police FCU offers these as part of our personal loan selections, which require no origination fees or collateral.  In addition, our competitive fixed rates will typically beat the traditional higher rates of major credit cards. 
For a limited time, we are offering a debt consolidation loan special. Here's what that means: 
Interest rates as low as 5.99% APR*

Free (and easy) application through 02/28/2023

Automatic payment through your Police FCU account – saving money & time

No prepayment penalties
Consolidating your debt into one, manageable, monthly payment will not only save you money, but it will reduce the extra stress of inflation and watching your spending power shrink.
Here's an example of how debt consolidation can save you money: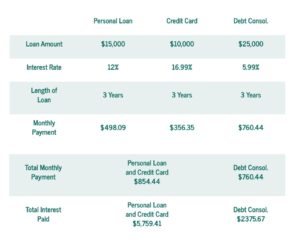 Other Tips for Fighting Inflation While Paying Off Debt
Debt consolidation loans are not a one-and-done solution for easing financial stress. There are other smart strategies you should adopt while reducing your debt burden:
If you haven't already, make a realistic budget. If you already have one, by all means, keep it and adjust it when income or other relevant factors change.

Stop using your credit cards. Don't use consolidating debt into a lower, more manageable payment as an excuse to rack up more high-interest debt.

Build accountability. Recruit at least one trustworthy person who can support your financial wellness goals, encourage you, and keep you on the straight and narrow. 
As always, Police FCU is here to help you with any questions or concerns you have. Visit our loans center for more information about our debt consolidation loans. Here's to a new year of better financial health!