Protecting our members' data is one of our highest priorities.
Securing Your Accounts
Your personal data security is very important to us- that's why we have revamp our mobile and online banking plus adding 2-step verification to your sign in process.  With 2-step verification, you're more likely to avoid fraud.
2-step verification is a deeper layer of protection for signing into our online account.  After completing your usual sign in process, you'll be prompted to enter a security code if it is not one of your trusted devices.
By asking you to complete this second step, we're double-checking your identity.   2-step verification makes it much harder for fraudsters to access your account because they will need your username, password and access to your email or cell phone.  It's one more way we're working to protect your account security.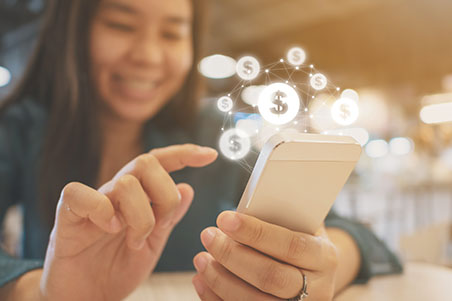 Protect Your Device
Mobile Security

Do not root or jailbreak your mobile device
to get around limitations set by your carrier or device manufacturer. It removes protections built into the device to defend against mobile threats.
Only download Apps from official stores such as iTunes or Google Play.

Avoid connecting your smart phone to an untrusted wireless network.
Personal Data Encryption
All personal data sent to our servers from our website is encrypted. You can verify if you are logged onto a secure site in two ways.
If you look in the address bar of your browser, you will see that the address begins with https://. Non-secure sites begin with http://.
Most browsers will have a padlock icon in the bottom right or left of the browser window. You will be able to click on the padlock to verify the security of the site you are visiting. Please note that when you want to perform online transactions, you will be forwarded to a third party vendor  that maintains our online banking program. When verifying the padlock for Police Federal Credit Union, you will be verifying for policefcu.com. When verifying the padlock for the online-banking program, you will be verifying for https://my.homecu.net.
Account Security – We never rest
We never take a break when it comes to security.  Our dedicated staff uses state-of-the-art cybersecurity tools to monitor member accounts and internal system 24/7.
At Police FCU we follow The National Institute of Standards and Technology (NIST) cybersecurity framework .  This cybersecurity framework guides organizations – including businesses as well as government agencies – with a set of guidelines to improve cybersecurity methodology and strategy.   Police FCU is continuously working with our data security partners to improve and elevate our security practices.
A Quick Check-up for Your Account
To maintain in-app security here are three health tips that you should follow:
Every member is assigned a default username, but you shouldn't use it for your ongoing sign in credentials. Instead, replace the default username with a unique username, because it makes it harder for fraudsters to guess. Use letters, numbers and special characters. If you can't think of any unique username, try to use a username generator that would help you develop a unique yet secure username.
You can use biometrics like a fingerprint or facial recognition is another method  to sign into your mobile app. It's a great security feature because if you lose your phone, it won't allow others to access your account.
In an event when we see suspicious activity or a security threat or we need to verify your identity, we'll need to know how to contact you. So it's important to keep us up-to-date.
Send us a secure message through mobile app to update your contact phone number.  Submit your address change online using our security form feature.