Paperless Convenience brought to you by Police FCU!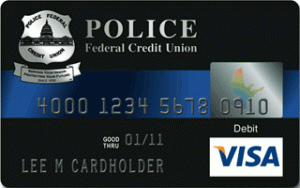 The Police FCU VISA® Debit Card works as two cards in one. It works like a check providing a convenient, paperless, safe and easy method of paying for purchases, and also as an ATM card, allowing you to obtain cash at ATMs.
The Police FCU Visa® Debit Card:
Has no annual fee
Has no monthly usage fees
Has no interest or finance charges (as long as there are sufficient funds in your account)
Can be used anywhere VISA® cards are accepted
Offers free, real-time card protections with CardNav
Free, automatic enrollment into Scorecard Rewards
Don't yet have one? Get yours today! You can call or visit a Police FCU branch to request yours today*.
Find a Network or ATM in Your Area
Disclaimers
Safety/security precautions: 
-Never share your PIN
-Police FCU employees will never ask you for your PIN.
*Must have a valid Police FCU checking account, available to qualified applicants only and may require an application to be submitted and approved.
VISA is a registered trademark of VISA in the United States and other countries.